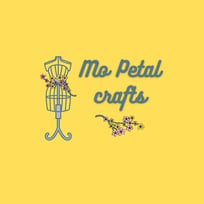 Quality, not quantity
We are a small company that specialises in quality home made bespoke gifts tailored just for you. Our products are predominately made to order so that we can personalise them to your liking . Although some items, for example, the key rings we hold in stock and can be despatched immediately. Should any of the items that you wish to purchase require personalisation please add what is required and contact details when you check out and we will contact you as soon as we can, to make clear what is needed. All products that are personalised are included in the price. Happy browsing and hope that we make something that you like.
Everything made with love.
Sue
How did it all start?
Mo petal crafts came about through my love of all aspects of crafting. I enjoy making all manner of gifts and my little company came about after making gifts for my family and friends' and so it started' as people asking me to make personalised items for themselves to buy. Everything I sell is still made in my craft room at home, still made with the same love and care as the first things I ever made.
Whether I am sewing on any one of my numerous sewing machines, personalising items on my embroidery machines, printing mugs or tee shirts on my presses, or hand crafting any number of gifts, each one is still made with fun and joy. I try to price everything with the current economic situation in mind so people can still treat their loved ones without breaking the bank, because for me part of the payment is seeing the happiness each gift gives to the recipient.
If there is something that you would like me to make for you please do not hesitate to ask and I will see what I can do.